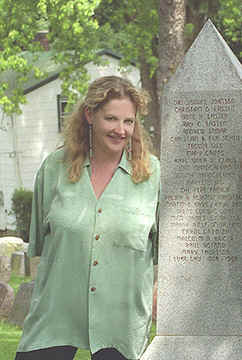 No matter what she's doing, animals are a constant in Mary Thurston's life. In her formative years, she spent countless hours studying and sketching the birds and mammals she observed in the zoos of Europe, and at the age of four had her first solo art exhibit at the University of Tulsa in Oklahoma. As an adult, Mary set aside her zoological interests to pursue a career in museum studies; that is, until she adopted a little dog named Petey, who one night at the dinner table inspired her to ponder the history of pets. At the time, the question of how people and animals lived in centuries past seemed a casual enough diversion--ultimately, the quest for an answer would redirect her career and result in the publication of her first book, The Lost History of the Canine Race: our fifteen thousand-year love affair with dogs.
It was while she wrote The Lost History that she began acquiring antique pet photographs from the flea markets of England. Word of her unusual expertise and vintage portrait collection soon spread to film producers and she was asked to appear in a succession of documentaries about pets for A & E, Animal Planet and the History Channel. She became a regular features writer for magazines such as Dog World and contributed both essays and images to several other books, including A Thousand Hounds: the history of dogs in photography, which was accompanied by a traveling exhibit launched from the International Center of Photography in New York City.
At the same time, her affection for Victorian animal images had rekindled a childhood passion for photography and she began creating portraits of the many homeless dogs and cats cared for by Animal Trustees of Austin, a nonprofit organization that champions unwanted animals. In these cases, emotive and compelling pictures could make a critical difference in attracting prospective pet adopters. Ultimately, the experience inspired her to focus her creative eye on the subtler expressions of animals. Fielding requests from pet owners for portraits to display in their own homes, she decided to devote herself full time to companion animal photography under the Animal Image moniker. Since then, Mary's photographs have been featured in five more books, two editions of encyclopedia and a national line of greeting cards.
"The camera is a means to capture the essence of our animals, their personal style if you will," she explains. "When you've done that, you've got a portrait that's not only beautiful but definitive."